So ganito pala ang magkagusto sa isang taong nakaka-intimidate. I always feel bad about myself. :( Grabe, even Dan labs, B labs and even Mon labs never made me feel this way. B labs is in med school pa ah, grumaduate pa na
magna cum laude
, kamusta naman yun. Wah!!! I hate this feeling. Gusto ko siya in a super weird way. He's not motivating me to write in my diary about how he runs his fingers through his hair (actually, he doesn't do that XD) or how he astig-ly walks down the hall. The only thing I want to do is live up to his category, kaso ang taas naman kasi nya, diko mareach!!! He's literally reachable but figuratively unreachable. Nagtatabi pa nga kami minsan sa klase without me freezing or squealing to death. :( Ano ba naman ito, minsan na nga lang nagkacrush, parang mali pa yata.
I want the old "Montreaux" back. She may be cheesier than the cheesiest cheese there is, but compared to what she turned to be, I think I would prefer the old one.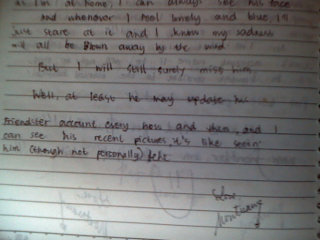 Sabi ko na nga ba eh, walang maidudulot ng maganda ang pagiging magka-group namin sa lahat ng subjects. Pssssssssssh.